The exquisite simplicity of the SHATTERED//fragments double shard ring I've discovered a few years ago has enticed me to further my journey of exploration within its collection. Aesthetically pleasing and thoughtfully crafted, the ring has a narrative to be told, and it's no fairytale.
Award winning jewellery designer Gina Melosi created a conceptual wearable art jewellery collections that does not shy away from the blur of reality; the broken, the abandonment, the isolation and the fear of the unknown. Yet the allure of the creations shone through despite its bleak thematic nature, into beautiful body adornments.
SHATTERED// fragments is Melosi's collection debut in 2011/12 and borne from the destruction of broken glass fragments found in the dark of the night; in litter-ridden alleyways, during drunken night outs, possible street fights. Whichever the scenario may be these glass shattering outcomes results in rough shapes and sharp edges, delicate yet slightly dangerous. SHATTERED//fragments is certainly not for the faintest of hearts, made wearable by alchemising the jagged pieces into precious metal.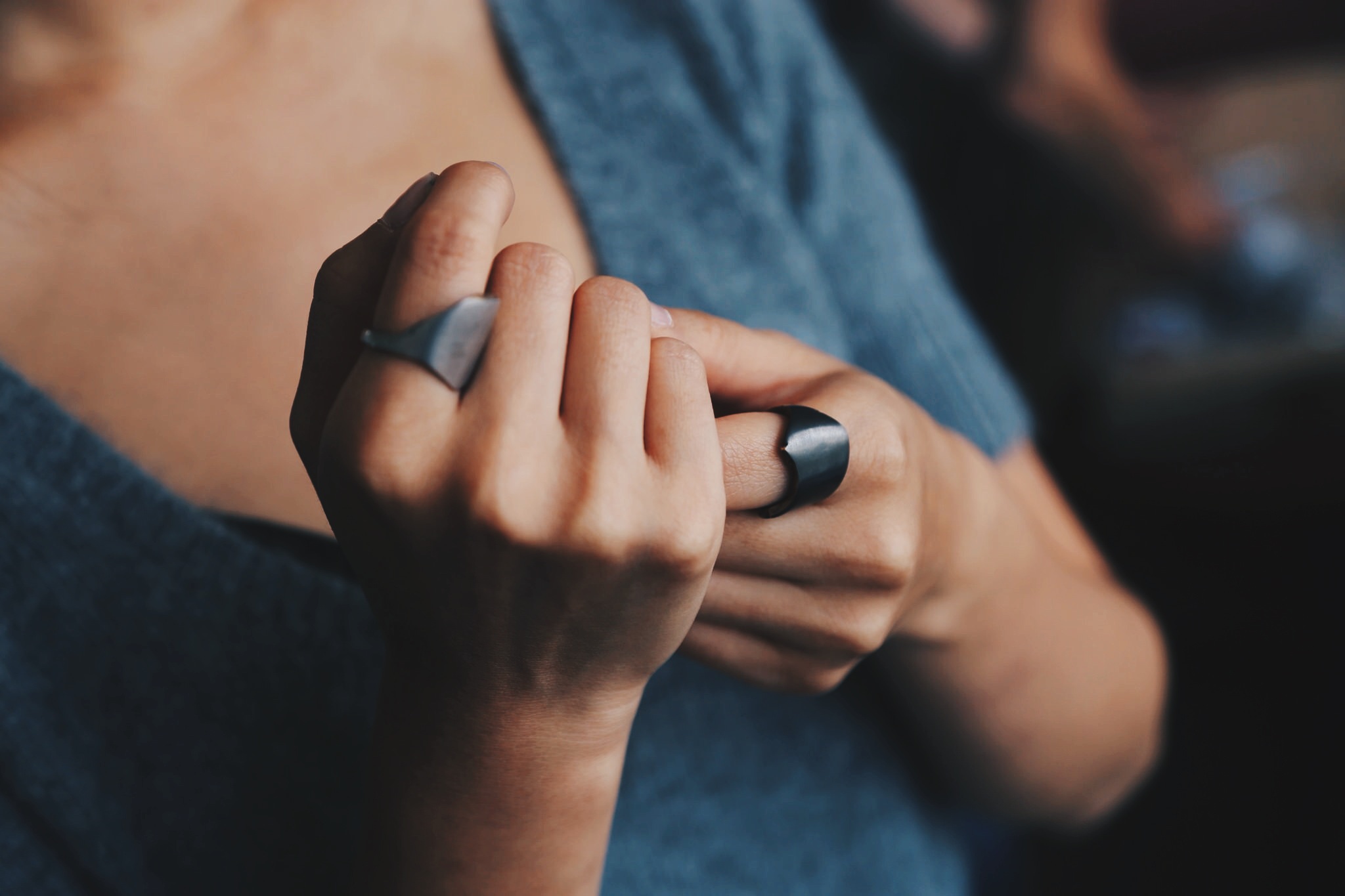 Broken//PROMISES is Melosi's second collection and shares an identical theme to SHATTERED//fragments of broken fragments left on the streets at night but this time with more curves, rougher textures and darker undertones. Though the remnants symbolises violence, neglect, destruction and aggression, Melosi has transformed these impracticalities into beautiful yet expressive wearable art that perfectly modes into the contours of the human body.
Ethically conscious of the environment, Melosi uses only recycled metals and fair trade gemstones of the highest quality with the minuscule rare rich blue sapphires on the SHATTERED// fragments bracelet mined from the Australian state of New South Wales.
Apart from the SHATTERED//fragments double shard ring, one of the rings I couldn't get enough of is the Pointer ring made from recycled bronze and lacquered by hand. Despite appearing rather menacing the Pointer ring is more sculptural than an aggressive object, belonging in an art gallery as opposed to a discarded remnant found in the street. It is a bold statement piece that takes a particular person to wear.
I couldn't get enough of the //CRACKED// choker necklace that glides gently around the neck showing off the wooden stick-like texture which adds to the overall effect. It is lightweight, modes to the neck and beautiful to gaze upon, the choker features predominately on this page. I would like to thank Kem for taking these wonderful photographs and Gina for sparing a time from her busy schedule to show me these stunning pieces of wearable art. I am so looking forward to what comes next from Gina Melosi.